INFO 25/10/2015
Championnat de France VCC, Aix en Provence 24 et 25 octobre 2015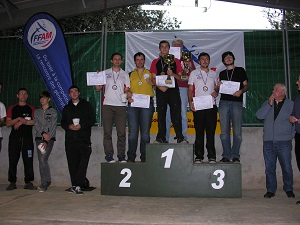 A small delegation of the CMR for this championship, the reason was the change of date, as this competition initially scheduled on 25 and 26 July was postponed due to the mistral.
Roland and I went to the competition as officials and only Bryce Surugue participated in F2E with the help of his brother Pascal. After some beautiful races, the two brothers climbed onto the second step of the podium to receive a well deserved medal.
Serge DELABARDE
End of Season Training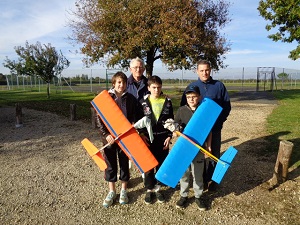 Saturday 17 October, the training center closed its training sessions under sunshine and cool air.
The session was very constructive as Gillaume fly unaided, Flavien did a loop on his own, his first looping and Gabriel linked the loops ( he suceeded a series of 3 without problems) and tried his hand at the inverse loop and flight inverted.
The club will be closed on Saturday 24 October and will restart its activities on Saturday 31 with the opening of the workshop where we can all meet again.
Serge DELABARDE
F1E World Championship
| | |
| --- | --- |
| | The F1E World Championship took place in Zlatibor, Serbia, about 120 km south of Belgrade, 23-29 August. This year, Alain Roux defended his title of World Champion won in 2013 and the team was composed of Jean-Luc Drapeau, myself and Jean-Marie Chabot. Alain not filed with the team, was 6th, 9th Jean-Luc, I took 10th place, and Jean-Marie 19th. We won the team silver medal, behind the Italians and ahead of Germany. If Alain had been in the team, we would still have had the silver! |
A photo of the podium, the team of France (Alain Roux replaced André Trachez, team leader, who had to leave immediately after the tests, due to the return to school of his children.)
The third photo shows from left to right, Jean-Marie Chabot, Pierre Chaussebourg, Andre Trachez, Team Leader, Jean-Luc Drapeau and Alain Roux.
Pierre Chaussebourg
Previous Info